Regular price
$ 129.04 USD
Regular price
Sale price
$ 129.04 USD
Unit price
per
Sale
Sold out
This pull-up bar is the perfect tool for performing intense full-body workouts at home. From pull-ups, sit-ups, and dips, it helps target muscles in the arms, chest, core, and back. It will help you build a sculpted physique - that's if you use it anyway.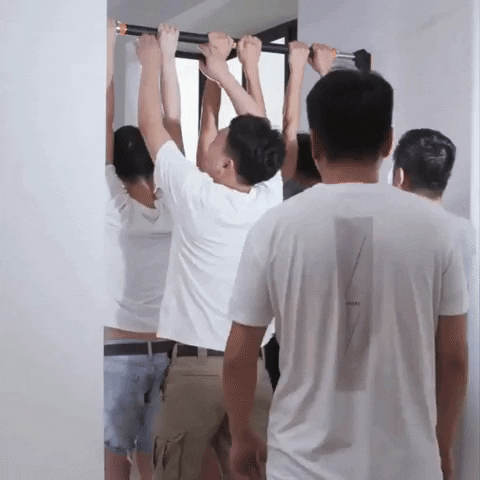 Super simple installation/ secure buckle lock mechanism: Installing this Multi-purpose Pull-Up bar is super simple as it does not require any screws.
It features a highly secure lock mechanism that's designed like a buckle. Once you determine the height you want to place the bar, extend it well enough to make good contact with the opposing surfaces, all you need do is snap the buckle lock. Once this is done perfectly, you can rest assured the bar won't come off while you're training. 
Made of slip-resistant foam: It's hard enough to do a pull-up, but doing a pull up while trying to prepare yourself for a possible fall is much worse. Unlike the regular pull-up bars that slip easily often causing serious injury, the Evolve Over™ Heavy-Duty Multi-Purpose Doorway Pull-up Bar is different.
It comes with thicker and larger silicon pads that increase slip-resistance and ensures stability. With this all-new anti-slip silicone pad, the heavier you are, the more friction that's generated and the more stable the bar will be. Moreover, it does not leave any mark spot on the surface ensuring that your door or wall looking as new as ever.
Not only suitable for doorways, works perfectly on opposing walls. This tool requires no screws during installation, so all you need to do is adjust the height, extend it, and clip. As a result, it is suitable for both doorways and opposing walls or hallways.
Share
View full details